We are pleased to be working with accessibility experts, AccessAble, to create Access Guides for venue-based tourism and hospitality businesses across the county.
AccessAble's Access Guides have been used by over 3 million people in the last 12 months. The Guides are based on a surveyors assessment and are a factual, objective resource that simply states what can be expected on arrival. They do not 'rate' a venue or provide a user perspective.
This information would act as the starting point for all disabled people and carers looking to visit new places and reacquaint themselves with previous places whilst supporting businesses to recover as quickly as possible. The Access Guides enable those businesses to share their offer to a much wider audience.
Each participating venue will receive
A survey from an AccessAble surveyor, assessing up to 1,000 items of information within the venue.
Creation of an Access Guide to the individual venue, reflecting how a disabled person can make the best use of the environment.
Production of an internal Guidance report to support an understanding of how and where to make improvements.
Window sticker with a specific QR code to highlight involvement in the programme and enable a visitor to immediately download the Access Guide.
Access to an E-Learning programme 'Disability Essentials' – a 45minute course identified as 'best in class' to support customer-facing staff. 
As part of an AccessAble programme, your Access Guide will be alongside more than 70,000 other 'live' guides that are currently being used by 100,000 different people each week.
Your Access Guide can also be integrated into your own website, via a simple link button.
All Access Guides also feature on the mobile app 'AccessAble' available through iOS and Android.
How much does it cost?
Businesses who are participating in the Interreg EXPERIENCE Development Programme will receive the initial survey cost for free, they will then cover the smaller cost of the following two reviews if they choose to continue with the accessible guides.
These costs are outlined below: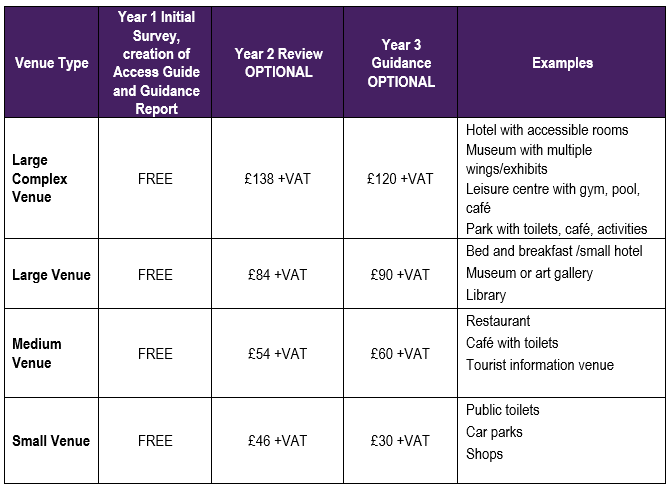 Businesses who are not participating in the Interreg EXPERIENCE Development Programme will be required to pay for the initial survey and if they choose to continue, the following two reviews.
Visit Kent's partnership with AccessAble means that the prices you pay are at a significantly reduced rate.
These costs are outlined below: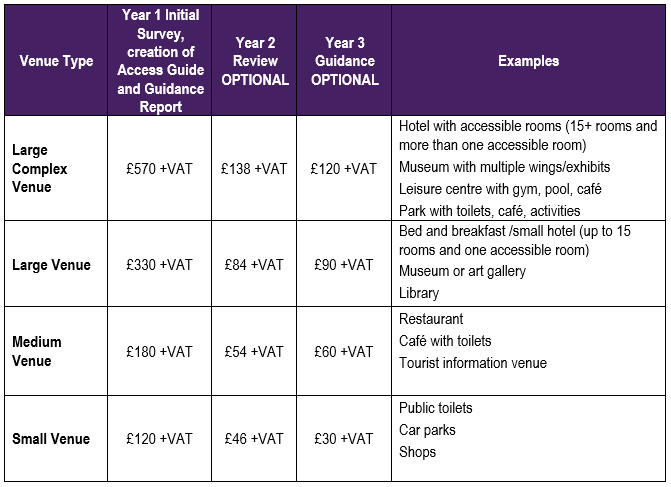 Virtual Access Guides
Virtual Access Guides provide 360-degree immersive tours showing routes and features along the way, together with access into and around a venue. Overlaid on this is accessibility information, which can be toggled on and off as required to fulfil a general Virtual Tour requirement too.
Partners to date have found these to be really valuable for high footfall areas or routes or those where people's anxiety could be particularly high.
| Virtual Access Guide | £1,000 - 3,000 per venue |
How does it work?
Please sign up for your Access Guide by completing the form here

Please complete the form for each venue that you manage. If you manage multiple venues that you would like to be assessed then please complete the form again for each venue.

By submitting this form you agree to cover the relevant costs for your business according to the costs outlined above (YEAR 1 FEE ONLY).

Once you have submitted this form, a member of the Visit Kent team will be in touch to confirm your booking. At this stage, you will be invoiced as follows:

If you are participating in the Interreg EXPERIENCE product development programme you will receive the assessment of one venue for free and you will therefore be invoiced for the cost of the two reviews, plus the assessment and reviews of any additional venues.

If you are not participating in the Interreg EXPERIENCE product development programme, you will be invoiced for the initial assessment, as well as the two reviews, plus any additional venues.

Following this, your details will be passed on to AccessAble who will get in touch with you to arrange a suitable day for the initial assessment to take place.
If you have any questions about what category your organisation will fit into, or if you'd like more details on the access guides, then please get in touch.