Kent came alive from 11-18 July 2021 when The Open returned to Royal St George's Golf Club, Sandwich.
As the first major event planned in Kent for 2021, the 149th Open played a key role in the rebuilding of our visitor economy following the impact of the Covid-19 pandemic. Harnessing the benefits of large-scale events is a key element of Visit Kent's recovery strategy. And, when destinations across the UK are fighting for their share of the staycation market, we are extremely lucky to have The 149th Open - a global event - shining a spotlight on our county.
The 149th Open brings excitement and great opportunities, including:
Up to 32,000 spectators on each Championship day are expected to attend - engage with spectators while they are visiting and encourage them not only return themselves but recommend Kent to friends and family. Research shows that two-thirds of spectators are likely to return to the area for a short beak within a year.
An estimated global TV audience of 125 million – your audience isn't just the spectators attending the event. Ensure your messages reach those following the event across the world and entice them to make their own trip to Kent.
We are working on a campaign which will help amplify the exposure Kent will receive as a result of The Open Championship, highlighting our county as an exciting and dynamic golf destination.
This activity will take the form of a dedicated marketing campaign, which will aim to reach spectators who have been watching the championship from home, providing inspiration and encouraging them to book their own golf or leisure trip to Kent in the future.
Activity will be launching across the Golf in Kent and Visit Kent channels from Monday 12th July.
New Destination Video Content
To help showcase our wonderful county, we've created a brand-new destination video featuring the Claret Jug. There are four versions of this video (in varying lengths) available, and we will be sharing it across our digital campaign activity throughout the summer.
Watch the videos over on our YouTube channel, and feel free to share them on your own social channels or website.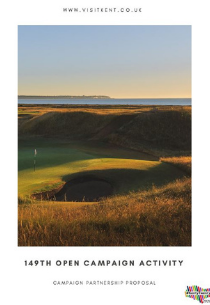 Visit Kent Marketing Campaign Toolkit
We've created a toolkit that provides an overview of all the activity included in our the campaign, as well as some handy tips for businesses to create messaging around The 149th Open.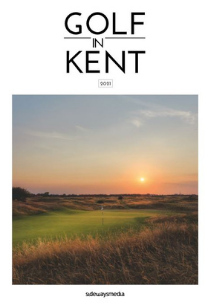 New Golf in Kent Magazine
We've worked in partnership with Sideways Media to produce a dedicated Golf in Kent magazine which has been distributed across East Kent. The magazine tells stories of the history of The Open in Kent, as well as sharing ideas of golf breaks in the county and 18 top tips for extending your golf break.

Take a look at download the digital version of the publication which you can share on your own channels.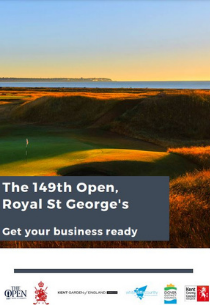 Getting your business ready for the 149th Open
We've also created a free toolkit for businesses, packed with tips and information you need to help your organisation make the most of this momentous event and provide a warm welcome to the visitors expected to attend.